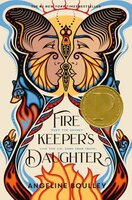 Book Title: Firekeeper's Daughter
Book Author: Angeline Boulley
Call Number: YA FIC BOUL
Recommended by: Jennifer Sullivan, Youth & Family Services Manager
Jennifer's Review:
This is an own-voices book that depicts tribal life from the point of view of a teenage girl. It has a very compelling plot with a strong female protagonist. The book is part mystery, part drama–with a little romance!
Firekeeper's Daughter was recently named the "Best YA Fiction Book of 2021" by the Goodreads Choice Awards, is a finalist for the Morris Award and will likely win additional honors at the Youth Media Awards later in January. Look for the TV series adaptation, coming in the future to Netflix.